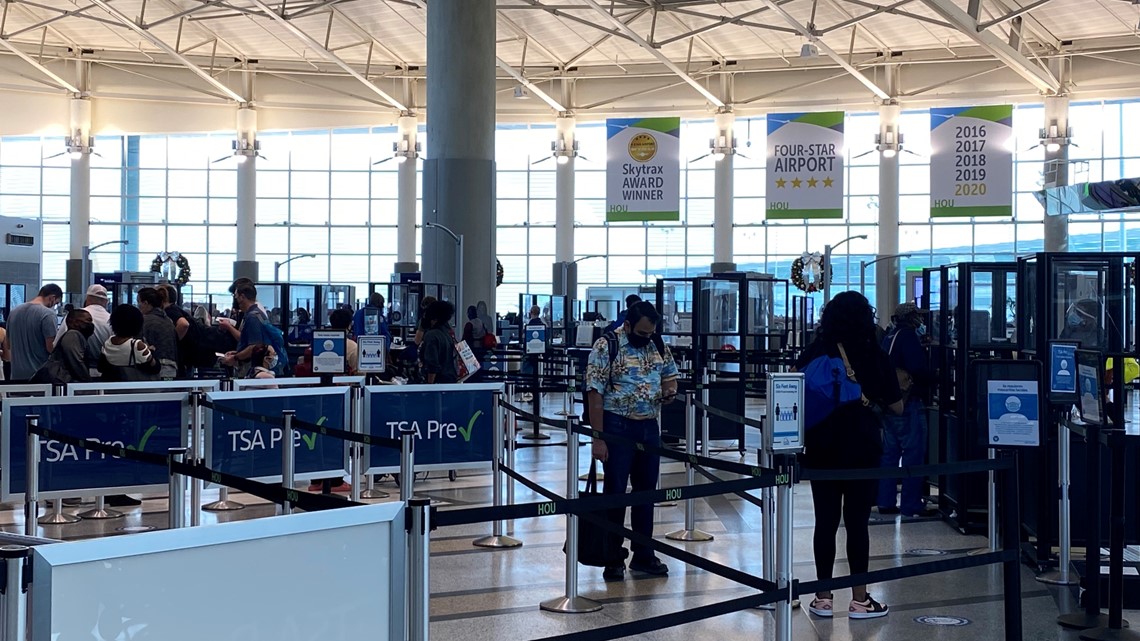 AAA predicts a significant increase in travel over the Christmas and New Year's period compared to 2020.
HOUSTON, Texas — Celebrating their 25th wedding anniversary at sea included precautions and a pandemic-related delay for Carleton Cole and his wife Hazel.
"We found out it was because of COVID," Cole said. "Everyone had to be vaxxed, everybody had to be tested."
They had to wear masks despite what they were originally told, and missed at least one port of call.
The Coles may have skipped the trip altogether if they'd known.
But they said it was still enjoyable.
"It was kind of like being in a bubble," Cole said.
Despite the recent surge of COVID in many cities, AAA predicts nearly 30 million more people will travel this Christmas and New Year's period compared to 2020.
Airlines are expected to see a 184% increase from last year.
"Some people may decide to stay home if there's an increase in COVID cases or, you know, because of concerns about the latest variant," said AAA spokesperson Joshua Zuber. "While others may note the progress in vaccines and make a last minute decision to travel."
"For us, we felt safe." Carleton Cole of Houston packed #COVID19 precautions for a cruise last week and says some rules changed last minute. His advice for travelers this holiday season + what some of YOU have to say: @KHOU at 5:00 & 6:00 #khou11 https://t.co/b02u07Jdsn pic.twitter.com/2hxydcz4sV
— Jason Miles (@JMilesKHOU) December 17, 2021
"We're vaccinated, so we feel good about it," said air traveler Heidi Georgi of Pearland.
She and her son, Christian, were flying from Hobby Airport to see family in California where face coverings are once again required anywhere indoors.
"We've travelled recently," said Georgi. "So we're kind of used to, you know, the routine."
Knowing procedures and potential pitfalls continues to be on many itineraries.
"For us, we felt safe," said Cole. "But it's really more of a situation where you have to make that call."
How you can stay safe while travelling
The CDC has lists of recommendations and requirements for domestic and international travel. They have have a guide for cruises. Those guidelines include:
Check your destination's COVID-19 guidelines before you leave. Rules can vary in different areas.
Wearing a mask over your nose and mouth is mandatory in most areas of public transportation (including airplanes) and U.S. transportation hubs (like airports)
If you're not fully vaccinated and must travel, get a COVID test before and after your trip. Tests are mandatory for international flights into the U.S.
The CDC has issued a Level 3 Travel Health notice for cruise ship travelers. Due to a high chance of COVID exposure, they recommend that people who are unvaccinated and/or at risk of severe illness avoid cruises.
The Texas Department of Public Safety are encouraging safe driving safely this holiday season. Their list of tips include information of extra enforcement from Highway Patrol.