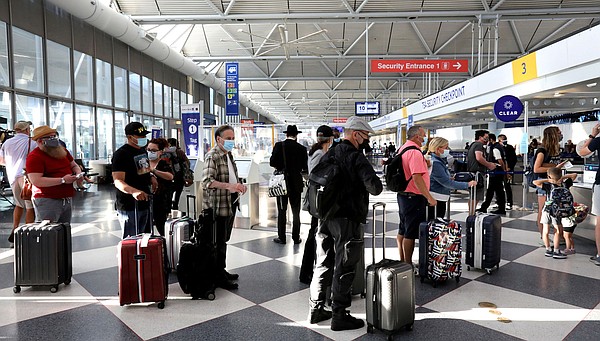 Most foreigners in Latin America and the Caribbean who have not been fully vaccinated against COVID-19 will not be able to enter the United States by air in accordance with the stricter travel guidelines that will take effect on November 8th.
President Joe Biden signed the new vaccination and testing requirements for international travelers a week ago. It includes exemptions for non-tourists from Haiti and Nicaragua, where vaccination rates are low, but most U.S. visa holders, including those with business and tourism visas, will still have to show proof of vaccination. to enter the US.
Also affected by new US travel rules: visitors to Cuba, where two self-produced vaccines, Soberana and Abdala, have not been approved by the World Health Organization, as well as those from other places in the region who have been vaccinated with the Russian Sputnik vaccine.
The new U.S. guidelines require people to receive vaccines from the WHO-approved list, even if they have not been approved by the U.S.
"This policy prioritizes public health, protecting U.S. citizens and residents, as well as those who come to visit us," said State Department spokesman Ned Price. "Because it puts public health first, exceptions to this policy will be extremely limited, including children under the age of 18 and certain people in countries where vaccines are not yet easily accessible."
Non-tourists from nearly 50 countries, including Haiti and Nicaragua, where the vaccination rate is less than 10%, are among those who have received an exemption.
In July, Haiti became the last country in America to receive vaccines after the Biden administration sent 500,000 doses of Moderna to Port-au-Prince a week after the July 7 assassination. of Haitian President Jovenel Moïse and weeks after the country's death. superior court of a disease related to COVID-19.
As of Sunday, the Haitian Ministry of Health reported that 135,256 doses of the Modern COVID-19 vaccine had been administered. Of these, 39,335 were second doses, leaving Haiti with less than 1% of its population vaccinated. With the expiration of the vaccines, the Haitian Ministry of Health decided to redistribute 250,000 doses to Honduras, with the help of the Pan American Health Organization, to prevent the waste of vaccines, the regional agency said.
With skepticism about vaccines and a lack of money for vaccine awareness campaigns that make it difficult to deploy, the Pan American Health Organization said it will send 150,000 doses of Johnson and Johnson to inoculate health workers and first responsible in the areas affected by the recent earthquake that devastated. The south of the Haitian peninsula, hoping to immunize more Haitians against the deadly pandemic.
As for Nicaragua, PAHO said it has received 2,407,270 doses through the UN-backed vaccine exchange program known as COVAX. According to data provided by the Nicaraguan Ministry of Health to PAHO, the country administered a total of 1,540,217 doses as of October 29, but so far only 414,670 people are considered to be fully vaccinated.
The exemption for Haiti and Nicaragua does not cover business and tourism visas, B1 or B2, respectively. They will still have to show a vaccination test and a COVID-19 test done within three days to board a flight, the U.S. Centers for Disease Control and Prevention said.
It will be the responsibility of the airlines to determine whether foreign travelers meet the U.S. vaccination requirement to travel before boarding flights to the United States, including verification that the last dose has been administered at least two weeks prior to date of travel.
After banning visitors from 33 countries, including India, China and most of Europe, even if they were fully vaccinated, the White House announced in September that it would tighten requirements for travelers to the United States. United, who were to present a viral COVID-1 negative. 19 test result within 72 hours after the trip, regardless of whether they were vaccinated or not.
Now, the new guidelines require that all U.S. citizens and legal permanent residents, as well as visitors, show a vaccination test and get tested three days before the trip. Unvaccinated Americans and permanent residents traveling will be required to submit a negative COVID-19 test one day before re-entering the U.S., while unvaccinated foreigners will only be able to enter under limited circumstances.
The CDC must also collect phone numbers, email and a U.S. address from all international air passengers, as part of the new contact tracking rules. Airlines must keep the information for 30 days to follow up with passengers in case anyone is exposed to COVID-19.
Source: The Nuevo Herald Cuba / American political reporter Nora Gámez Torres contributed to this report.
Follow me in social media :